Because we know how he loves pie, and how better to commemorate that than by making one?
It's not bragging, because my grandma taught me how and I hereby give her all the credit. This, hands down, is the best pie you'll ever eat. Ditch your ideas of braided, woven, dry double crusts. The apples are marinated in sugar, nutmeg, and their own juices, then covered in sugary, buttery topping. The boys go crazy.
1 recipe Crumb Topping (posted
here
!)
6 c. (or so) apples, sliced & peeled
3/4 c. sugar
2 T. flour
1/2 t. cinnamon
1/8 t. nutmeg
Pie crust
(I used the boxed Jiffy kind; apparently that's a sacrilege, so you might want to find a real recipe)
Stir together last four ingredients (not the pie crust, duh), add apple slices and gently toss until coated. Let the mixture sit for a few minutes to let the sugar, cinnamon and nutmeg really soak in. Transfer apple mixture to
crust-lined
pie plate. Cover pie with crumb topping. Bake in 375° oven for 25 minutes with
silver ring on pie plate
, then bake 25 to 30 minutes more without ring.
Cool on wire rack and serve with
homemade vanilla ice cream
!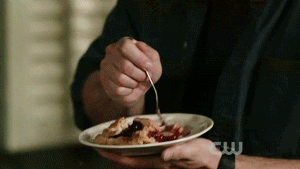 (that's Dean Winchester, in case you're wondering who the guy is who gets my grandma's pie recipe named after him)